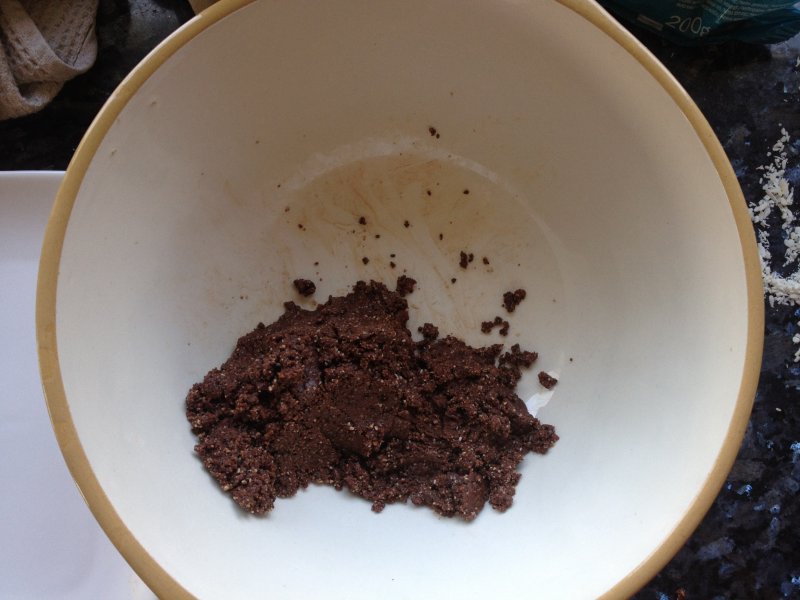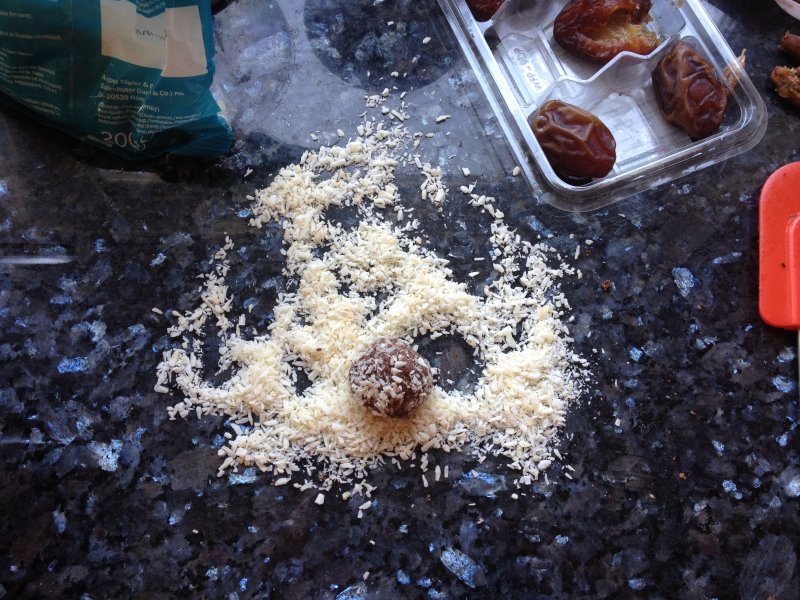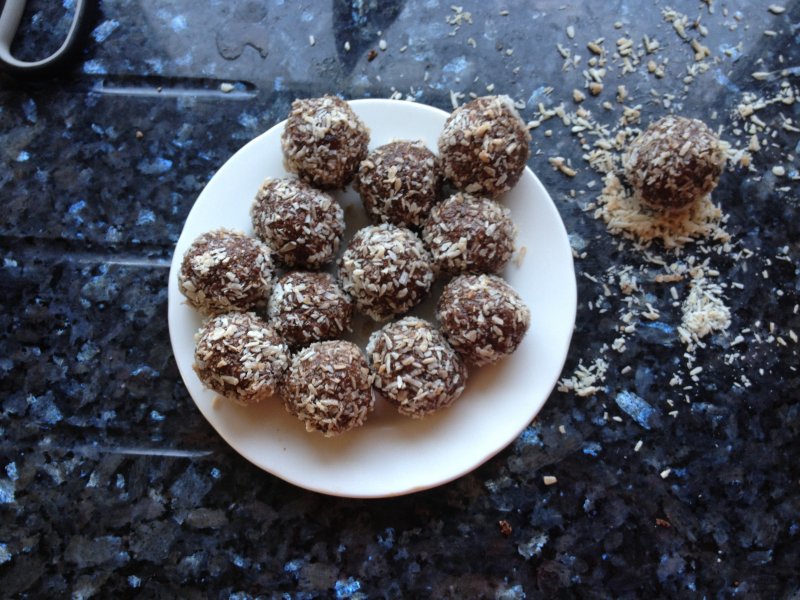 I bought the 'Deliciously Ella' cookbook on recommendation.  It does have some really nice wholefood recipes in there.  It's plant-based, dairy-free and gluten-free…so it's easy if you are following that kind of eating.  Personally though, I'm not an advocate of a Vegan diet, especially one that is so high in sugar, albeit fruit sugar. So, this brings me to the sweet recipes in her book.  I can't speak for all of them because I've only tried one, but on the most part I think you could cut down a fair amount anywhere there is maple syrup or lots of dates!  I've made some lovely Paleo biscuits from various recipes…but most of them are just a bit too sweet.  The point is to retrain your taste buds so you don't want to eat such sweet things!  Below you can see the recipe for my revised version of Ella's Almond and Chia Seed Energy Bites – Mine are called Energy 'Balls' 🙂  These little treats can even be served at a dinner party as an alternative to the bog standard Chocolate truffle which can be far too sickly!
Revised Recipe –  Almond & Chia Seed Energy Balls
(Original recipe is the blue writing)
1 cup Almonds (approx. 150g)  –  (200g Almonds)
4 Medjool Dates (pitted)  –  (400g or 24 dates!)
4 Tbsp Raw Cacao Powder  –  (same)
3 Tbsp Almond Butter  –  (2 tbsp)
3 Tbsp Coconut Oil, plus a bit extra to help the coconut stick –  (2 Tbsp)
2 Tbsp Chia Seeds  –  (same)
A little water
Desiccated Coconut to roll the balls in (not in the original recipe)
Method
Place the Almonds in a food processer and blitz until nicely crushed.  Add the pitted medjool dates along with the rest of the ingredients.  Blend until you have a nice sticky consistency with all the ingredients mixed together – you may need to add a little bit of water if the mixture is too stiff.
Roll the mix into balls.  Use your finger to paint on some melted coconut oil and then roll each ball in desiccated coconut.  Place on a plate in the freezer for about 1/2 an hour to an hour.  Take the balls out and store in an air tight container in the fridge.  They'll last for quite a while and are a healthy alternative when you need something a little sweet!
Share This: